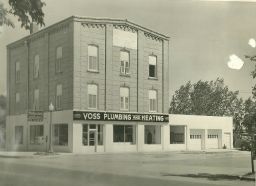 Steve began plumbing in 1977 with Voss Plumbing & Heating of MN. In 1990 he became a partner with Voson. In 2005, he combined three generations of his family's plumbing reputation with current technology and began Voss Utility & Plumbing.

Steve holds a Master Plumber license in both Minneapolis and St. Paul. There are also eight additional master plumbers on staff, several whom have been working with Steve from apprenticeship through foreman positions.

Voss Utility & Plumbing specializes in commercial plumbing for retail, medical, dental, restaurant, and warehouse projects. We can accommodate your sewer and water utilities as well as plumbing needs on new developments, expansions, and renovation projects in the Twin Cities Metro area.


For more information, send us a request on our Contact Us page, or call (763) 497-4577